FREE -- This Weekend: Admission to 100+ National Parks (1/14-1/16)
Submitted by manoj on Wed, 01/11/2012 - 16:29.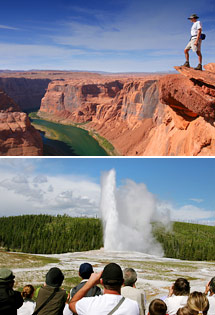 In honor of Dr. Martin Luther King, Jr., more than 100 of the country's national parks will offer free admission this weekend (Jan. 14-16).
Guided tours and outdoor activities from hikes to nature talks will be held Saturday, Sunday and Monday. Some parks will offer discounts on lodging, food and souvenirs.
Participating parks include:
Grand Canyon National Park, Arizona (regularly $12-$25)
Yellowstone National Park, Idaho, Montana, Wyoming (regularly $12-$25)
Yosemite National Park, California (regularly $10-$20)
Rocky Mountain National Park, Colorado (regularly $10-$20)
Everglades National Park, Florida (regularly $5-$10)
Click here to find parks nationwide.
Free Entrance Days in the National Parks
America's Best Idea - the national parks - gets even better with several fee-free days at more than 100 national parks that usually charge entrance fees.*
Mark your calendar for these fee-free dates in 2012:
January 14-16: Martin Luther King Jr. weekend
April 21-29: National Park Week
June 9: Get Outdoors Day
September 29: National Public Lands Day
November 10-12: Veterans Day weekend