Maithry New Year Celebrations on January 7, 2012 @ 11 AM
Submitted by maithryfamily on Mon, 11/14/2011 - 05:57.
MAITHRY - Bay Area Malayalee Community
celebrates New Year 2012
on Saturday, January 7, 2012 @ 11 AM - 6 PM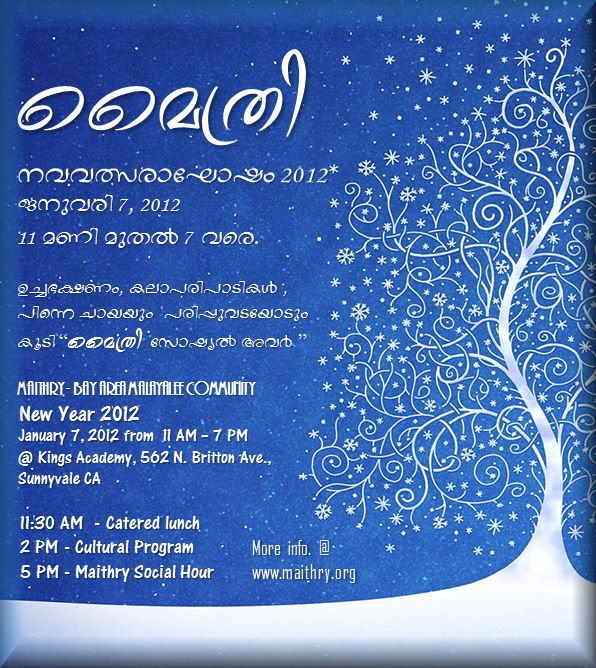 Come, celebrate Maithry New Year '12 with fellow Malayalees on Saturday, January 7 2012 from 11:00.
The day will start with a catered lunch, followed by cultural program showcasing the multi-faceted talents of MAITHRY members. We will conclude the event with the ever popular Maithry Social Hour with tea & parippu-vada. Thanks to Peacock Indian Restaurants for providing food at this event.
Contributions:
Free : Kids under 12 years.
$20 : Adults and Kids 12 years and older
Contributions can be sent to (checks payable to) MAITHRY, PO Box: 2132, Cupertino, CA, 95015, or via paypal at paypal@maithry.org
---
Our Premium Sponsors:
Maithry XNY'12 Sponsors
Sudhir Matthew, Realtor 925.963.5655 [Real Estate Agent]

Peacock Restaurants, 6 Locations! (650)428-0600 [Catering & Event Mgmt]

Fortune Technologies, 1214 Apollo Way, Sunnyvale, CA 94085 [Training & Placement]

Tirupathi Bhimas Restaurant | (408) 945-1010 | 1208 South Abel St. Milpitas, CA 95035 [Catering & Mobile Dosa Station]

---

Charly Perumattom, Choice Auto Repair, (408) 749-1422 [Malayalee owned automobile servicing in Sunnyvale!]

PRIYA PILLAI, Realtor, 510.943.8352 | Pacific Realty Partners

VERKA USA Healthy food providers | 408.292.0500 | Paneer, Yogurt, Desi ghee, Lassi, Makhan, Flavored Milk Drinks

Prince Realty | Dr. Prince Nechikat | Real estate & Refinancing services and more! | (408) 829-9779

Koshy George, CPA. Tax, Transaction, Business Advisory Services.(408) 833-5830 | Financial Planning services too!

CHAAT BHAVAN 5355 Mowry Ave. Fremont, CA 94538. Tel: 510-795-1100

S.N.Limousine | Excellent rates! Airport trips; Wine Country Tours; Proms & Parties| 408.513.4346

Jacob Varghese, Mortgages & Real Estate & Refinancing | 408.247.3031

PANNU DENTAL Cosmetic & Family Dentistry, Fremont, Dublin, San Jose & Cupertino! | 510.792.9292

AMBER BOUTIQUE Readymade suits, Jewelery, Ayurvedic Medicines, 39754 Cedar Boulevard Newark, CA 94560 | 510.573.0115