Kerala to be represented at Silicon Valley Fall Festival at Memorial Park - Cupertino
Submitted by maithryfamily on Fri, 09/24/2010 - 17:20.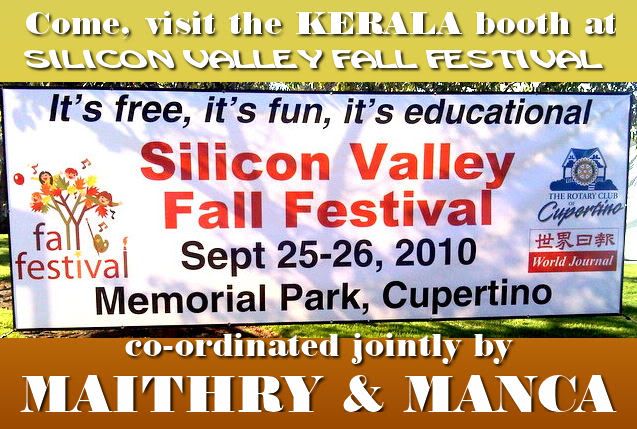 MAITHRY to participate in the Silicon Valley Fall Festival in Cupertino on Saturday, September 25, 2010.
Cupertino Fall Festival is a very popular event which draws over 10,000 people from the South Bay Area. The event includes numerous cultural activities, kids game areas, food booths etc. Maithry will be participating in this event for the first time, with a booth showcasing Kerala. Everyone is invited to attend this event and requested to stop by the Maithry booth.
On Saturday, September 25, 2010, MAITHRY will have people at the booth and on Sunday, September 26th, MANCA representatives will be attending the booth and sharing information about Kerala. On both days, there will be Kerala delicacies being distributed to all those who come to the booth. If you are in the Cupertino area we encourage you to come over to the booth and say "Namaste!" 
Pictures from Maithry's Kerala booth at the Silicon Valley Fall Fair.

Video of Maithry's Kerala booth at Silicon Valley Fall Festival
 
Silicon Valley Fall Festival 

September 25-26, 2010 
Memorial Park, 10 am - 5 pm 

The Cupertino/Silicon Valley Fall Festival will take place at the Cupertino Memorial Park. The festival is an evolution of the Oktoberfest, Cupertino Jubilee and Fall Festival that has been held for the past 28 years. 

A joint venture between the Rotary Club of Cupertino and the World Journal, with support from the City of Cupertino and the Cupertino Union School District, the festival will showcase the Health, Education and Safety Fair. This year the festival will expand its scope with the addition of a partnership with the World Journal, the largest Chinese language newspaper in the Bay Area. The fair will incorporate emergency preparedness (CERT), healthy eating, and other educational opportunities. The Safety and Health zone will provide information about the active volunteer groups like CERT, MRC, CARES and Block Leaders. In addition, the City of Cupertino will host the "Keep it Green Environmental Fair" where solar products, CFL and LED lighting, alternative fuel and electric vehicles will be presented. 



The two day event will kick-off with "Bridge to Health" Walk/Run on Saturday morning organized by the Y. This year's highlights are the Fine Arts Show and the Fun Zone, which includes bounce houses, interactive crafts booths and other children and family entertainment. A Cultural Fair will showcase sister cities booths, country booths, art show and multicultural performances, chicken dance, Captain Jack Spareribs and the Pirates of Cupertino. The food court will feature Asian and global cuisine. For more info, please visit www.sv-fallfestival.com or call 408.564.5529.