Maithry Family celebrates Onam'15 at Chabot College's beautiful campus on Saturday, September 5, 2015 starting at 11 AM. Please purchase your tickets at http://x.co/onam2015
Come, join us at Maithry's signature event where the Malayalee Community of the San Francisco Bay Area gathers to celebrate the most celebrated festival - Onam. Enjoy and awesome sadya, served in the traditional way, and then enjoy a wonderful afternoon of cultural program put on by the very talented members of our Maithry family!
Schedule:
11 AM: Registration & Check in
11:30 AM: Onam Sadya starts
2:00 PM: Onam Sadya completes
2:30 PM - 6 PM: Cultural Program by Maithry Family
7:00 PM: Maithry Social hour with Tea & Parippuvada.
We are looking forward to an amazing day of family gathering and joyful celebration. Registration and ticket purchase form are at http://x.co/onam2015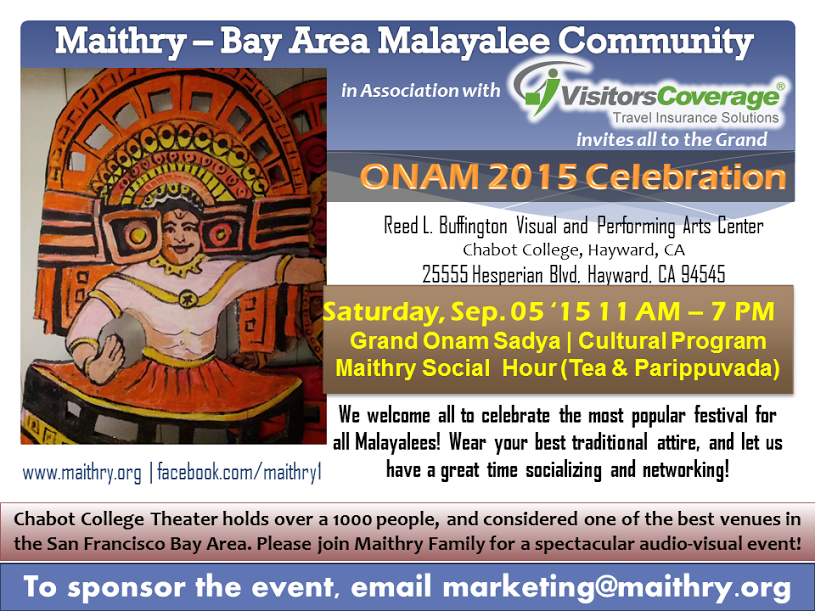 ---
Submitted by maithryfamily on Sat, 03/15/2014 - 20:39.
Streaming now! Maithry New Year 2015 is being streamed now via our media partner INDTVUSA! You can watch it via ROKU too!
Watch it via http://www.indtvusa.com/live-tv/
Here is the schedule:

---
Thanks to all who had supported and participated in Maithry Family's New Year 2015 celebrations! Looking forward to more fun gatherings! Thanks also to
INDTVUSA
for being Maithry's media partner.
Pictures and videos from Maithry New Year 2015 can be found at Maithry's Facebook Page (<- Link)
Here are some pictures from Maithry New Year 2015

Submitted by anil.nair on Sun, 11/03/2013 - 06:25.
Here's the video of the drama that we staged @ Maithry Onam 2013. Thanks to all for your kind support extended to our theater group all these years!
Submitted by maithryfamily on Thu, 09/06/2012 - 17:54.
Here is a video of how the Tesla S is made, courtesy of Tesla


Submitted by bindileep on Sun, 09/18/2011 - 16:45.
Semi-classical duet dance to the song Sindooram Peythirangi from the movie "Thooval Kottaram" depicting Onam and our beautiful kerala at Maithry Onam 2011.
Dancers: Archa Dileep and Devika Kumar.
Choreographed by Rema Menon.

Submitted by maithryfamily on Wed, 01/26/2011 - 16:10.
"Picha Vecha Naal..." by Vishnu Sundar
"Annaara kannaa Vaa..." by Gokul and Anand